Carbon neutral from grass to glass
In 2021, we revised our targets for the coming years. Vreugdenhil's ambition is for the entire supply chain, from grass to glass, to be carbon neutral by 2050. In order to realise this ambition, we are working closely together with dairy farmers and suppliers to reduce emissions to the maximum degree possible.
Back to Environmentally, friendly factories and offices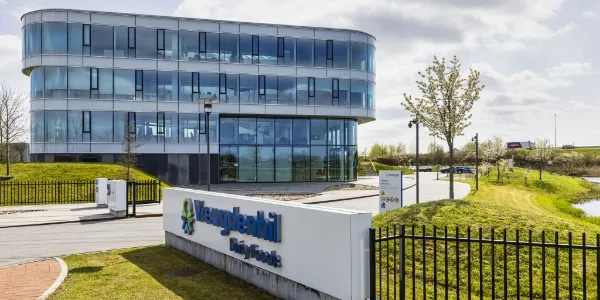 Also in our factories, we are transitioning towards climate neutral production. Besides our head office in Nijkerk, our production site in Barneveld has also gone climate neutral.
Barneveld is our first factory with carbon neutral production, and we are extremely proud of that. It means that the milk powder production process there does not emit any greenhouse gases. We are accomplishing this by using renewable energy. Thanks to the installation of heat pumps, this site became climate neutral in early 2022. We are also transitioning towards climate-neutral production at our other sites. Given the different nature of the production process in Gorinchem and Scharsterbrug, compared to Barneveld, achieving climate neutrality at these sites is a challenge of a very different magnitude. The offices in Nijkerk have been climate neutral for several years now. In fact, this office building is among the Netherlands' most sustainable office buildings: eco-friendly and with a pleasant work climate. The building has been awarded the 5-star (outstanding) BREEAM-NL New Construction and Renovation Completion Certificate, which is the highest sustainability level under this quality mark.
Our aim is to reduce carbon emissions by 50% per tonne of product by 2030, compared to 2005 levels. This concerns emissions from our buildings and production-related activities. Between 2005 and 2020, we already realised a 34% reduction in carbon emissions per tonne of product. In Scharsterbrug and Gorinchem, the aim is to reduce carbon emissions by 16% by 2030, compared to 2019 levels. This would be a halving of carbon emissions compared to 2005. In order to make this happen, we have formulated individual reduction targets for each of these two sites. Seeing as Barneveld is already a climate-neutral production site, it has not been included in these targets.