Transport
Our Mobile Milk Collection (MMC) carriers drive some 2.5 million km per year to bring our dairy farmers' milk to our factories. We try to limit fuel consumption and greenhouse gas emissions as much as possible by means of smart planning and by using tank lorries with better fuel economy.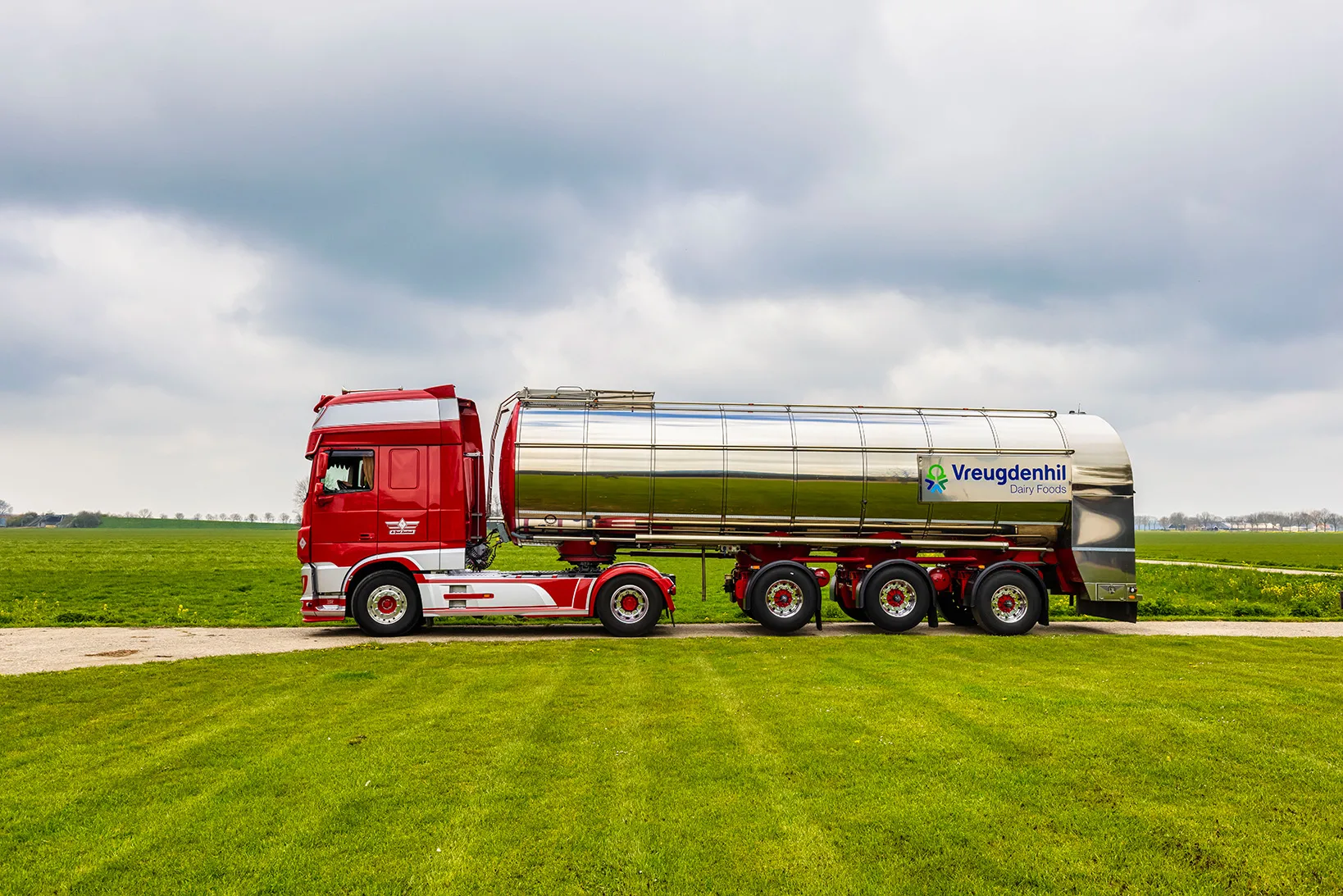 In 2021, our MMC carriers have taken significant steps to further reduce carbon emissions. Carbon emissions from transport, per kilogram of milk, were down 34.5% on 2013 levels. This means that our goal of a 20% reduction (compared to 2013) by 2022 has already been achieved. Carbon emissions were reduced mainly through additional measures taken by our carriers, such as the use of newer and cleaner lorries. A number of these carriers are also applying carbon offset mechanisms.
 
Other transport

In order to reduce carbon emissions from the transport of our finished products, we have been using water-based transport options to get our export containers to the port. Since 2021, we have been transporting all our export containers by inland waterway vessels to the ports of Rotterdam and Antwerp, unless this option is not available. In some cases, our carriers have no other option than to revert to road transport, such as to deliver containers to the port by a specific time, so as to ensure they arrive at our customers on time. Last year, the availability of containers and space on (sea-going) vessels continued to be a challenge. The impact of the Covid-19 pandemic on global container logistics was still felt in 2021 and transport costs increased. Despite these conditions, we managed to keep up the share of inland waterway transport in our total transport in Gorinchem and Scharsterbrug. In Gorinchem, 91.2% of our finished products were transported by water (compared to 93.6% in 2020). In Scharsterbrug, 87.3% of all transport was by water (compared to 85.7% in 2020).
In 2021, we managed to significantly increase the use of barge operators in Barneveld for the transport of sea container to the ports. This was a major step. On the whole, transport by water was up to 79% from 67% in 2020, exceeding the 70% target we had set. From our Barneveld site, containers are transported by lorry to a nearby terminal in Tiel, from where they are shipped by water. We also ship export shipments from external parties by water as much as possible. In 2021, 79% of these shipments were transported by water. We used to mainly use road transport for that. Increasing the use of water transport for the shipping of our sea containers will continue to be a focus area for us over the coming years.
In addition to increasing transport by water, we also took other measures to further reduce carbon emissions. We have scaled up the focus on more efficient transport through smart planning, by combining shipments, and by optimising volumes per journey, always in close collaboration with our carriers and customers. This is how we are reducing the number of transport kilometres. We will continue down this path in the coming year.
Reducing carbon emissions from transport per tonne of product continues to be one of our goals. However, total carbon emissions were not calculated last year.