Fewer product quality complaints
Safe products are a prerequisite for contributing to consumers' health. All our production sites are certified in accordance with the internationally recognised food safety standard FSSC 22000.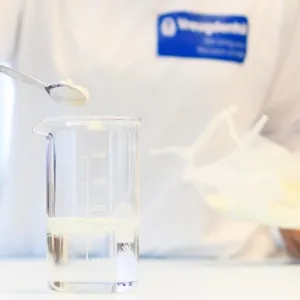 In order to further guarantee food safety, our employees take compulsory food safety training. From 2021, this training has been compulsory for all employees, including head office staff, temps, and cleaning staff. In 2021, more than 85% of our employees successfully completed this training. In addition, we take food safety measures at our sites on an ongoing basis. We invested in improved metal detection in Gorinchem, worked on product improvements in Scharsterbrug, and implemented improvements following standardisations in Barneveld. Additionally, we are also designing a new way of working for production at external sites.
In 2021, we received 0.20 product quality complaints per 1,000 tonnes of product. This figure is down on 2020 (0.30) and means we have hit our target of no more than 0.25 product quality complaints per 1,000 tonnes. We handle our quality complaints in detail and focus additionally on commonly occurring complaints. In response to such complaints, we get to the bottom of what exactly causes the complaints, so that we can prevent them in the future. Our target for 2022 continues to be to stay below 0.25 product quality complaints per 1,000 tonnes of product.
Customer complaints come in at and are coordinated by our Customer Service department. Complaints are registered in a central system and the relevant department is asked to investigate the complaint, evaluate it, and draw up and implement improvement measures. We determine the effectiveness of our complaints management system every year. An improvement point that we will be working on over the coming year is to further improve the analyses to track down the underlying reasons behind commonly occurring complaints.