Care from calf to cow
24 hours a day, 7 days a week, a dairy farmer puts great care into ensuring his or her animals can grow old healthily. In 2021, this resulted in our dairy farmers' cows living 6 years and 26 days on average, which is 34 days longer than in 2020. This result is above the Dutch national average of 6 years and 13 days, meaning that we again achieved our objective this year.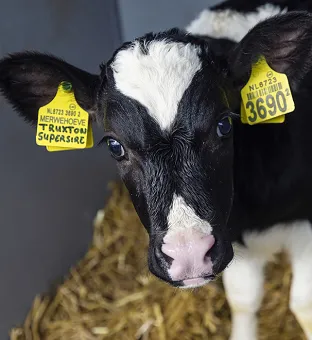 In order to continuously improve cow welfare, our dairy farmers have been using the KoeKompas tool for several years now. This is a tool that helps them track animal health and welfare. Together with a vet, the dairy farmer looks at different aspects that affect cow health and welfare, so as to identify strengths and points for improvement. This gives dairy farmers greater insight into potential risks at their farm, so that they can then take preventive measures.
Improving calf care is also part of our sustainability programme. Dairy farmers use the KalfOK score to monitor calf welfare. Based on 12 indicators, cattle farmers gain insight into the quality of calf care and possible points for improvement in their calf rearing practices.